There is a low diversification of 12 months returns within the transport / logistic sector. The sector is around 14 percent lower since February. Among the winners we find Celebi Hava Servisi AS, Spirit Airlines and American Shipping Company ASA. Relatively big losses are for Navios Maritime Holdings, Gama Aviation and YRC Worldwide.
Core figures transport / logistic sector
The winners in this sector are the large caps, while microcaps are mostly among the less performers.
Lowest PE-ratios transport / logistic sector
Regarding the price/earnings-ratios we see a uniform palette. The large caps are with the price/earnings-ratio of 18 the most expensive. The microcaps are the cheapest and trade at 11 times the earnings per share. Stobart Group, Waberer's International Nyrt and James Fisher and Sons are the stocks with the highest ratios. Stocks with the lowest ratios are Mesa Air, Turk Hava Yollari AO and Enter Air SA.
Highest dividend yields transport / logistic sector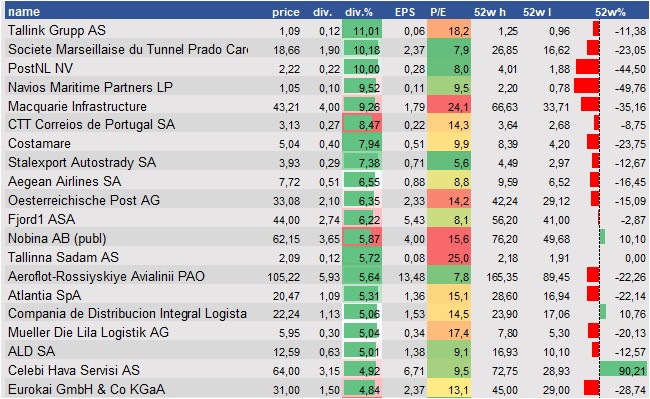 The sector's average dividend yield is with 1,8 percent relatively high. Stocks now high dividend yields now are Tallink Grupp AS, Societe Marseillaise du Tunnel Prado Carenage SA and PostNL NV.
This is a free publication from Valuespectrum Pro. Valuespectrum Pro is a professional platform with analyses from all US and European companies. Click here to sign up for free.