Within the banking sector, we see a low diversification of the 12-months returns. Since January last year the sector is around 16 percent lower. Among the winners we find Liechtensteinische Landesbank AG, First Financial Bankshares and Indre Sogn Sparebank. Relatively big losses were for Banca Carige SpA Cassa di Risparmio di Genova e Imperia, Piraeus Bank SA and Getin Noble Bank SA.
Core figures banking sector
The winners in this sector are the microcaps, while midcaps are mostly among the less performers.
Lowest PE-ratios banking sector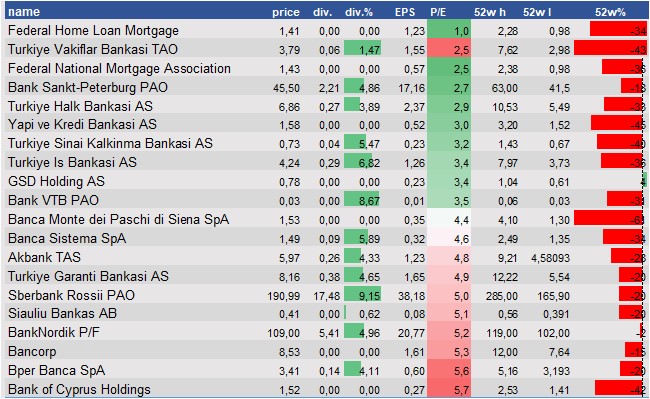 Regarding the price/earnings-ratios we see a uniform palette. The smallcaps are with the price/earnings-ratio of 13 the most expensive. The midcaps are the cheapest and trade at 10 times the earnings per share. Van Lanschot Kempen NV, Bridge Bancorp and Midwestone Financial are the stocks with the highest ratios. Stocks with the lowest ratios are Federal Home Loan Mortgage, Turkiye Vakiflar Bankasi TAO and Federal National Mortgage Association.
Highest dividend yields banking sector
The sector's average dividend yield is with 3,1 percent relatively high. Stocks now high dividend yields now are BRDe Societe Generale SA, Van Lanschot Kempen NV and Arion banki hf.
This is a free publication from Valuespectrum Pro. Valuespectrum Pro is a professional platform with analyses from all US and European companies. Click here to sign up for free.