Yellen expects growth to pick up
While replying to questions from members of Joint Economic Committee of Congress, the Fed chief, Janet Yellen resisted demand to offer a schedule on raising interest rates which have been held since December 2008 at a 0-0.25% range. Instead, she insisted that interest rates would remain unchanged till the economic data fulfill the Fed's dual mandate of price stability as well as maximum employment.
Optimism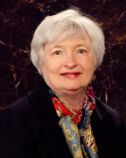 Janet Yellen, Federal Reserve
According to Yellen, price stability is an inflationary range of 1.7% and 2% and maximum employment is an unemployment range of between 5.2% and 5.6%. Yellen expressed optimism that in the 2nd quarter economic growth will rebound because overall production and consumer spending are continuously increasing.
Yellen repeated that a dismal 0.1% growth in the first quarter was the result of severe winter weather. She said that too many Americans are out of work and the housing market has lost steam.
The Fed chief expected unemployment to decline and economic activity to increase at a quicker pace in 2014 compared to previous year.
However, destabilization due to increased geopolitical tension as a result of Russian intervention in the Ukraine pose a threat to optimistic predictions.